February is a month of celebrations! Join us as we explore Chinese New Year this week.
This year, Chinese New Year begins on February 1st, and the holiday lasts 15 days. Chinese New Year is based on the Lunar calendar, and each year is represented by a different animal. 2022 is the year of the Water Tiger. Some characteristics of the Water Tiger are the ability to think deeply, have self control, and to 'pounce' on what it is that you want.
This article is great for kids of all age for background on the history and the practices of the Chinese New Year.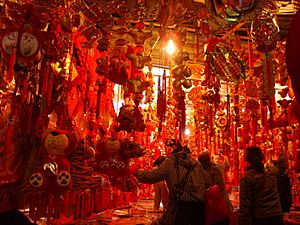 For the older crowd, try this article about the Chinese zodiac animals and the lunar New Year:
It is so much fun to make fresh spring rolls together as a family or with friends. Prep all ingredients in advance, then set up an assembly line. You can make the spring rolls with whatever ingredients you enjoy, and do not need to follow a recipe. Our Health instructor, Emily, says her family always makes them vegetarian and includes bean thread noodles, shredded carrots, fresh basil, mango, and avocado. They enjoy making a few dipping sauces so people can choose what they like. They prefer peanut sauce, wasabi and tamari, and a rice vinegar, sesame, ginger sauce. Gluten free, delicious, and so much fun!
Here are Emily's recipe picks for this exciting holiday!
Fresh Spring Rolls for a healthier take on a tasty tradition.
Fried spring rolls are a traditional Chinese New Year treat!
Are you on a celebratory roll? Check out this classic Kaleidoscope post about summer celebrations around the world!
As always, make sure you are following Kaleidoscope on Facebook and Instagram for updates and resources!